TimeGuardian Deluxe (11.1)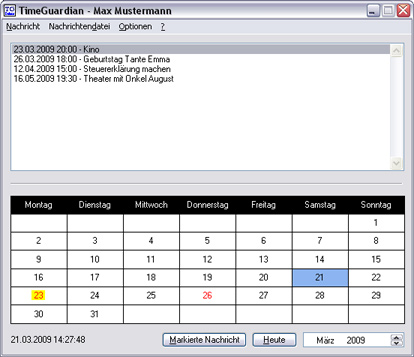 New: Now (since version 11) also available in English language!!

TimeGuardian is a reminder for your PC which reminds you of things you should not forget. Thus, if you do not want to miss the next TV broadcast, simply start TimeGuardian!
You may enter as many messages as you want. These messages are then stored together with a certain date and will be shown when the date has been reached. Furthermore, you may also add messages that repeat themselves in a certain period of time. TimeGuardian can also start a program of your choice then.
Minimum system requirements
Microsoft Windows XP (Service Pack 2) or higher OR Windows Server 2003 (Service Pack 1) or higher and compatible computer
3 MB of free hard disk space
DirectSound-compatible sound card for audio playback
---